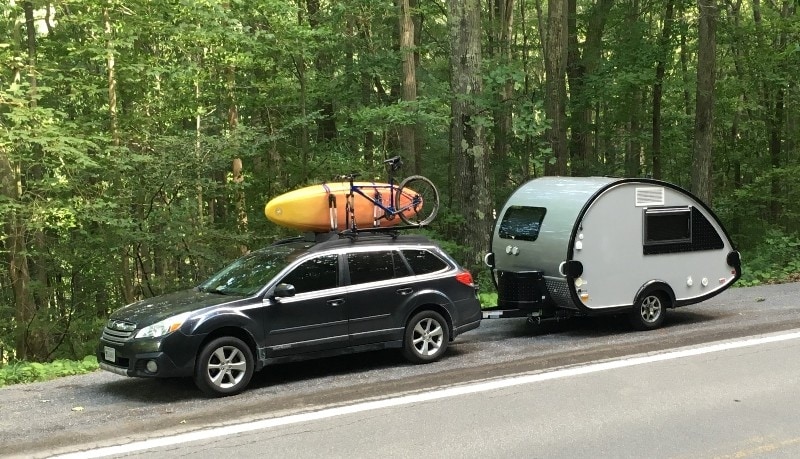 Start traveling with your family in comfort, while hauling your bikes and kayaks along for the trip. Our local Subaru dealership has technicians on hand to help you configure your Subaru vehicle for efficient towing. If you're looking to purchase a Subaru SUV for towing, then Herb Gordon Subaru enables you to find a 2018 Subaru Outback that fits your family and towing needs.
1. Know your Subaru model's towing capacity.
Stick to your vehicle's towing capacity and save yourself from car issues. Going over in weight puts additional pressure on your vehicle's mechanical and transmission systems. Plus, if what you're pulling is too heavy, then you'll have sway issues which are dangerous on the road. The 2018 Subaru Outback is rated to tow up to 2,700 pounds.
2. Install the correct hitch.
There are five different hitch classes, each rated to carry a certain amount of weight. The Class I hitch is rated up to 2,000 pounds. Whereas, the Class II hitch is rated up to 3,000 pounds. Additional considerations must be taken to guarantee the hitch is appropriate for what you're towing. Our Silver Spring Subaru dealer has technicians who'll determine which hitch you need and handle the installation.
3. Connect the brakes.
For safe towing, your trailer brakes and brake lights should turn on when your vehicle's brakes and brake lights turn on. Herb Gordon Subaru can set up your 2018 Subaru Outback for towing your trailer safely.
Staying safe on the road means only towing what your vehicle can handle. Moreover, it's crucial to have your Subaru adequately equipped and maintained. Stop by our Silver Spring Subaru dealer to properly equip your vehicle for towing or test drive a 2018 Subaru Outback.