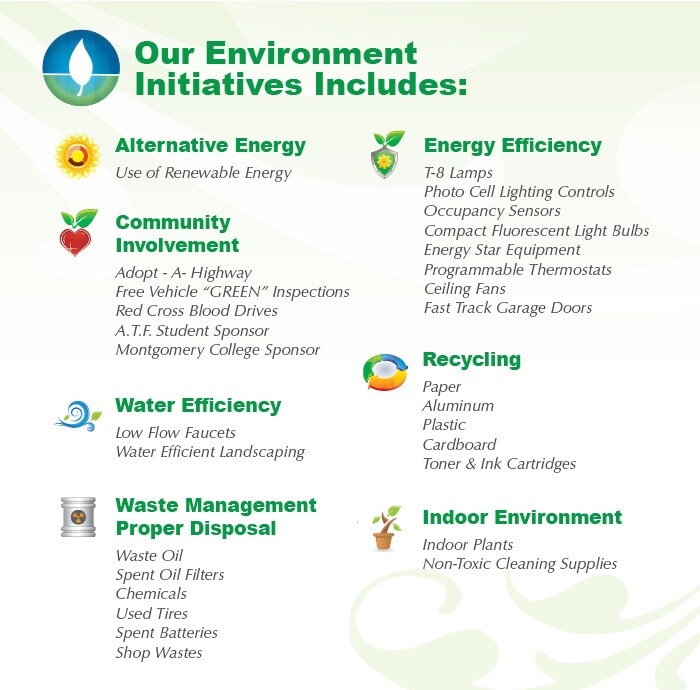 ---
We know the environment is important to Subaru owners—after all, it'll be hard to find your next adventure if there's no more wilderness for your 2019 Subaru Outback to conquer. So, at Herb Gordon Subaru in Silver Spring, MD, we strive to run our business with as little environmental impact as possible. Here are some ways your Subaru dealers are taking the ecological initiative.
Community Involvement
At Herb Gordon Subaru, we support and participate in a number of environmental and community programs dedicated to making the world a better place. We support an Adopt-A-Highway project to help keep our roads clear of litter, and host regular blood drives for the Red Cross. We offer free vehicle "GREEN" inspections and sponsor a number of student programs in the Rockville area.
Efficiency
We're dedicated to improving efficiency all aspects of our business. Our Silver Spring Subaru dealership is equipped with low flow faucets, T-8 lamps with occupancy sensors and compact florescent bulbs, and energy star equipment, all of which reduce our resource consumption and our impact on the world around us. The area outside our dealership uses water-efficient landscaping, and we make sure that our dealership lounge has plenty of indoor plants to help absorb carbon and improve air quality.
Disposal
Our Subaru service center goes through a lot of materials while we provide repairs and maintenance to customers in the area. So, we're careful to recycle the paper, aluminum, plastic, and cardboard that comes through our Subaru car dealership. We also make sure the waste oil, chemical wastes, and spent materials don't end up polluting our water supply.
So if you're looking for an eco-friendly dealership for your next car-buying experience, look no further than Herb Gordon Subaru. Subaru love extends to the environment, and our dealership is no exception. Try asking our dedicated staff about our most fuel-efficient models while you shop, so you can help protect the planet on the go.