The 2021 Subaru Love Promise Customer and Community Commitment Award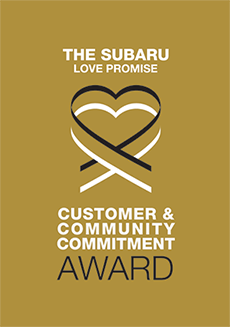 We've been nationally recognized for our dedication to our customers, our community, and the Subaru Love Promise.
We're honored to receive the 2021 Subaru Love Promise Customer and Community Commitment Award. This award nationally recognizes elite Subaru retailers who provide an exceptional customer experience at every interaction with Subaru. These retailers have also demonstrated an outstanding commitment to supporting passions and causes in their local communities in important areas such as the environment, community, health, education, and pets.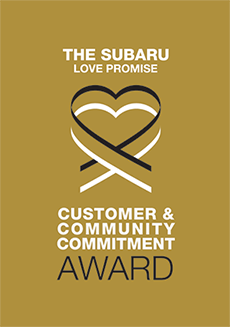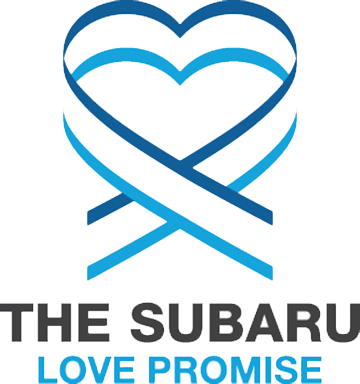 What is the Subaru Love Promise?
Subaru and our retailers believe in making the world a better place and the Subaru Love Promise is our vision of respecting all people. This is our commitment to show love and respect to our customers and to work to make a positive impact in the world.
How is Herb Gordon Subaru dedicated locally to the Love Promise?
Herb Gordon Subaru promises to be a strong advocate in our community, and not just an automotive retailer. We will continue to support those organizations we currently are engaged with, including the Holy Cross Homecare & Hospice and the American Cancer Society. We believe that these vested relationships are an essential element to our civic duty. We pledge to continue to build upon our philanthropic efforts because we understand the value of doing what is right not for the business but for the lives we positively affect.
American Cancer Society, American Red Cross
Love Promise Stories from Herb Gordon Subaru
Subaru and Herb Gordon Subaru believe in making a positive impact on the communities in which we live and work. We uphold that belief through our Love Promise Community Commitment. Every month, we select inspiring stories from customers and partners from around our area who strive to support our collective commitment and feature them here
Herb Gordon Subaru Helps Drive Away Cancer - Vivienne S
The American Cancer Society thanks Herb Gordon Subaru for its incredible support of the Society's Road to Recovery program during 2020. Prior to the pandemic, Herb Gordon Subaru fueled numerous free rides to treatment for cancer patients with their Transportation to Treatment campaign. Herb Gordon Subaru's donations helped patients in need of rides get to their cancer treatment in the Baltimore area during January, February and March 2020. Unfortunately, because of COVID-19, the American Cancer Society had to temporarily suspend the free ride program out of concern for patient and driver safety. Rides are provided by American Cancer Society volunteers who use their own vehicles to take patients to treatment. Once the environment is safe again, Road to Recovery will reopen. "Being in the automotive industry, transportation is what we do. The American Cancer Society's Road to Recovery program is a fitting charity for Herb Gordon Subaru so that we can help cancer patients who don't have rides get to their lifesaving treatment," says Herb Gordon Subaru General Manager Eddie Sarecky."Herb Gordon Subaru is a tremendous partner with the American Cancer Society and helping provide rides to treatment for cancer patients is a perfect match with our mission," says Tswana Sewell, executive director of the American Cancer Society in the Greater Washington, DC/Maryland region. "We are very grateful for the passionate support of Herb Gordon Subaru and for their amazing employees who go the extra mile to fundraise so that cancer patients who are too sick to drive themselves or who do not have enough family and friends to provide rides can get to treatment."
---
Fighting Cancer During a Pandemic - Vivienne S
Cancer hasn't stopped and neither has the American Cancer Society during the pandemic. The same can be said for the staff at Herb Gordon Subaru who have been busy making a strong impact in the fight against cancer during this challenging time. To adjust to the pandemic, they had to change their usual American Cancer Society fundraising activities that included luncheons and raffles in previous years. Instead they created Jersey Fridays during which Herb Gordon Subaru staff can wear their favorite team jerseys to work on Fridays for a contribution of $5. They plan to continue Jersey Fridays through next year. They raised cancer awareness and fundraised with pink American Cancer Society bracelet sales and by selling hundreds of raffle tickets for an amazing 2020 car giveaway. In addition, the American Cancer Society is their charity of choice for the Subaru Share the Love campaign, which contributes $250 for each car sale to a Herb Gordon Subaru buyer's charity of choice, which most frequently is the American Cancer Society. Herb Gordon Subaru General Manager Eddie Sarecky says, "During these times of difficulty, it's very inspiring to see how my team still steps up to make a difference in people's lives. They are very passionate about the fight against cancer. "The American Cancer Society is very grateful to Herb Gordon Subaru for the incredible support they provide in the fight against cancer. The pandemic has delayed cancer screenings and treatment, as well as putting our mission at risk for the first time in the American Cancer Society's 107-year history. Because of COVID-19, we are only able to fund cancer research at 50 percent this year, so every dollar raised is extremely important. The enthusiasm and commitment of the Herb Gordon Subaru team makes an enormous contribution in helping to save lives and improve quality of life for cancer patients and their loved ones," says Tswana Sewell, executive director of the American Cancer Society in the Greater Washington, DC/Maryland region.
---
You Are Loved Subaru - Carolyn S
June 2020 Dear Subaru, I would like to share my gratitude to your Herb Gordon service team, especially your service advisor Vitaliy Khlebnikov, and your loaner car administrator Laurie Axtell, for kindness and compassion as I navigated my personal situation during the COVID-19 pandemic. I was a daily caregiver for my mother at a nearby nursing facility. I took my car to Herb Gordon for an oil change and service at the beginning of March. I was provided a loaner car while my car was being serviced. I appreciated the accommodation. When I sensed that COVID was here in Maryland and that my mom's nursing facility would go into lockdown, I simply stopped in place, refusing to go anywhere, and imposing full self-isolation, in fervent hope that I would be able to continue to care for my mom in her nursing facility. My just-serviced car and your loaner car were caught in opposite places. I kept in touch with Herb Gordon about my evolving situation as the world itself turned upside down. Vitaliy and Laurie were compassionate and understanding during an extremely intense and uncertain time. I didn't feel pressured to have to choose between the risk of switching cars and my mother's life. For that, I am beyond grateful. I could focus on advocating for my mom completely. Further, my continued self-isolation allowed the nursing facility to grant me access to care for my mom as she was dying, and that was priceless. Right before my mom got COVID in April, I was permitted special entry to the parking lot of my mom's gated nursing facility for a window wave with my mom on my birthday. Somehow, I knew that would be the last time we would see each other before she got COVID. I was grateful for the opportunity and I went for it. I made a sign, 'You Are Loved', drove to her facility, and held it up for my mom to see. My mom waved to me as she saw her brave daughter jumping up and down holding the sign high and with such presence and excitement outside her window. I tried any and all ways to bring joy and love to my mom in a heartbreaking situation. Your loaner Subaru was part of that precious moment and I had a very meaningful birthday. Herb Gordon provided the transportation ;-) I have included photos of my birthday window wave event with your loaner Subaru. I included another special photo - me holding my mom's hand before she died. It was taken inside the COVID unit at her nursing facility. With their own choice of compassion, as well as knowing that I had been in full self-isolation for weeks prior, the nursing facility made the rare exception for me to come be with my mom as she was dying. Herb Gordon's kindness in allowing me to be isolated and safe from exposure paved the way for me to get the opportunity to comfort and care for my mom in person, and giving us the precious gift of being together again. Your loaner Subaru and I have been through a lot in the last three months. We experienced many milestones together. Your car carried me to my mom's facility on the last day I was able to care for her before the facility went on full lockdown in March. Your car accompanied me to my birthday celebration at my mom's facility for a window wave in April. Your car sat waiting at my house, ready for the inescapable phone call about my mom's declining health and death. Your car carried me to my mom's bedside as she lay dying of COVID in mid-April. Your car carried me on the quiet drive home after she died. Your car sat with me in quarantine as I wondered about my own health after being in the COVID unit with my mom. Your car carried me plus a few azalea branches from my yard to my mom's graveside burial. When I was let back in to my mom's nursing facility in June, two months after she died, your car carried my mom's belongings to my home after I cleaned out her room. Now it is time for return. What an amazing experience your loaner Subaru and I have had together. After all, it was 'just an oil change'… My family and I are long-time Subaru owners. My parents bought their first Subaru from you in 1990. I bought my first Subaru from you in 1993. My 2011 Forester is Subaru #5 in my family. I'm going to call your three-month loaner Subaru #5b. :-) The kindness that Vitaliy, Laurie, and Herb Gordon Subaru gave me allowed me to bring joy, comfort, and physical presence to my mom as she died of COVID. I read a letter to my mom after our experience together in March and April. It is titled, "Dear Mom, You Are Loved." Here is the link: https://youtu.be/Bi1nA5xKJGA Please know that Herb Gordon played a such an important role in our story, enabling the rest of the 'You Are Loved' journey to play out. One small act of kindness… Thank you to the Herb Gordon team. There are so many challenges and tragedies in the world that we cannot fix, but we can act with kindness through difficult times. Kindness is a choice and kindness is everything! With gratitude, Carolyn
---
Appreciative ER staff - Amanda L
Herb Gordon Subaru was so generous in donating boxes lunches to the entire ER staff at Medstar Montgomery Hospital during covid! It was such a kind gesture that truly helped in boosting the morale of overworked ER staff :)
---
Herb Gordon Subaru American Cancer Society Drive - Vivienne S
Herb Gordon Subaru staff have an incredible passion for helping cancer patients get free rides to treatment by fundraising for the American Cancer Society's Road to Recovery program. On November 7, 2019, Herb Gordon Subaru hosted a special luncheon fundraiser and presented the American Cancer Society with a $7,500 check that will provide more rides for cancer patients. The entire Herb Gordon Subaru staff was active in raising these funds from a large slate of events, their own personal contributions and asks to family and friends. They are continuing to fundraise to top the recent check donation. For example, staff made contributions for the recent luncheon, held in the dealership showroom, as well as entering fundraising raffles for sports tickets. Herb Gordon Subaru also participates in the MileOne Autogroup Transportation to Treatment program that has contributed generously to supplement Road to Recovery volunteer driver rides. When American Cancer Society volunteer drivers aren't available, rides may be made possible through taxis, Uber and Lyft in select areas of Northern Virginia and Maryland. Having reliable transportation to treatment is one of the biggest roadblocks for cancer patients in fighting their disease. An estimated 3.6 million Americans delay or have difficulty getting needed medical care each year due to the lack of available, affordable transportation. That's why a successful transportation assistance program, like the one that Herb Gordon Subaru supports, is a tremendous asset, and donations play a critical role. Annually, MileOne Autogroup raffles off a brand new vehicle with the proceeds going to the American Cancer Society to fund cancer patient transportation. Photo caption: (l to r) American Cancer Society communications director Vivienne Stearns-Elliott and Herb Gordon Subaru staff: Alma Umana, Claudia Herrera, Brittany Hall, Ed Sarecky, Michael Roy, Rodrigo Andrade, Jason Withrow, Mercy Auza and Zack Powers.
---
Thank you for the AAAS/Subaru Science Books! - Jackie S
Argyle Middle School has been the lucky and grateful recipients of 150 science books that were all nominated by AAAS for the AAAS/Subaru SB&F Prize for Excellence in Science Books. We have some of the books in the media center (library) for all students to check out and enjoy, and the rest are in the science classrooms for students to read when they have completed their classwork. Some of this year's favorites are "Impact" a book aboiut asteroids, by Elizabeth Rusch; "Itch" by Anita Sanchez, which is about all the things that make you itch; and "Trash Revolution" by Erica Fyvie, and this book is about how we can all do our part to reuse, recycle, and reduce trash. Thank you so much, Herb Gordon Subaru! We can never have too many books!
---
Blankets comfort all! - Jessica A
Seven people, 3 floors and so many blankets. The partnership between Subaru and Leukemia and Lymphoma Society has given the members of the Light The Night team the opportunity to deliver blankets to hospitals all in throughout the DMV area. But when we were asked to deliver them to the Children's Hospital in Washington, DC, we were able to hand deliver blankets to rooms of patients, alongside hospital staff and the Subaru team. This experience became so much more special because we were able to witness the gratitude of the patients and their families. In a situation like this, something as simple as a blanket can go a long way. We quickly finished deliveries to the patients on the cancer floor- which in retrospect is something we can celebrate since patients on that floor were sparse. With so many blankets left over, we were able to venture off into different wards of the hospital. It was a beautiful experience to see the reactions of those receiving them. The blankets that Subaru sponsors make great gifts to these patients because, even though they are in a children's hospital, some of them are considered to be young adults--and blankets can span over all ages. Going through treatment can be harsh- it can be filled with seemingly endless days that are incredibly exhausting to both the body and the mind. We are thankful to partner with Subaru to bring comfort and a small slice of home to the patients we serve.
---
Bringing the Chespeake Bay into the Classroom - Kate A
Herb Gordon Subaru is proud to partner with the National Aquarium to bring a small part of the Chesapeake Bay to local classrooms! The Aquarium's Terrapins in the Classroom program, funded in part by Herb Gordon Subaru, brings baby diamondback terrapins into classes to grow and thrive before getting released back into their natural environment. General Manager, Ed Sarecky, recently visited a local Howard County 3rd grade class to see the terrapin program and donate STEM books to the students. Pictured: Chris Brown, 3rd Grade Howard County Teacher and Ed Sarecky, Herb Gordon Subaru General Manager. Learn more about this great program at http://aqua.org/terrapins
---
Thank you for the science book donation! - Jackie S
Last year, and this year (2017 and 2018), our school, Argyle Magnet Middle School, has been the lucky recipient of 150 award-winning books that we were able to select from the winners of the AAAS/Subaru SB & F Excellence in Science books. We've added copies of each book to our media center library collection so that the whole school community can enjoy them, and placed the rest of the books in the science classrooms where they can be enjoyed by students who have finished a test early or when they have completed their classwork or otherwise have extra time. The books cover a wide variety of science topics including hurricanes in Eye of the Storm: NASA, Drones, and the Race to Crack the Hurricane Code; 3D printing of a beak for an eagle in Beauty and the Beak; and burping in space,always a favorite of middle schoolers, in To Burp or Not to Burp: A Guide to Your Body in Space. They are at a variety of different reading levels and cover many interests so all of our students can find something they'll enjoy. We are thankful to Herb Gordon Subaru for the donation and for supporting our students with books about science. The photo shows some of the books and thank you letters from the students. Jackie Suzich, Argyle Middle School Media Specialist
---
Thank You Herb Gordon for Sharing Hope & Warmth! - Jenny H
The Herb Gordon Subaru team participated in a very special delivery at Children's National Medical Center in Washington, D.C., ranked among the top 5 children's hospitals in the country. The Children's National team were eagerly awaiting the donation and arranged for Herb Gordon Subaru to deliver blankets directly to patients all over the hospital. LLS staff was joined by Keli Mazzuca, avid volunteer and mother of our Light The Night Remembered Hero, Mason. Keli has a special connection to Children's National Medical Center as it is the hospital her son was treated at before passing away in March 2018 after a very long battle with blood cancer. The Subaru team arrived on site and, as a group, we took all the boxes of blankets and arts & craft kits upstairs to the Volunteer Services office led by the Director herself, Fernanda, who loves this yearly event. The teams shared special memories of past deliveries as they unpacked the blankets and arts & craft kits! We placed them into wagons that would be used to take around the hospital to patients in different units. After the wagons were set up, the LLS Marketing Manager secured a few exciting group photos and videos before heading out on the very special deliveries. Everyone was smiling from ear to ear. We split into three groups to deliver to the most patients and a Herb Gordon Subaru representative went with each group. Keli's group got the chance to visit and deliver blankets and craft kits to patients and families on the very same floor that Mason was treated on. She shared with the Herb Gordon Subaru team how much it meant to her to be a part of the delivery. It gave her a chance to give back to families that were going through similar experiences. Claudia, Ed, and Rodrigo from Herb Gordon shared with LLS staff that they were so grateful to take part in the delivery. They showed dozens of patients and families at Children's National Medical Center how much Subaru loves to care.
---
Herb Gordon Subaru Loves to Care! - Jenny H
July 17th at the Children's National Medical Center was a meaningful day for Jason Withrow from Herb Gordon Subaru. "Everyone we met was so nice and welcoming. I was awed by the strength of the kids we met. They are truly heroes to be fighting so hard and still have such high spirits. It feels good to help in any way possible. It is a wonderful cause and we were honored to be able to partner with LLS." Jason told us. With him that day was Ed Sarecky, and together, they delivered 80 blankets, 10 arts and crafts kits, and messages of hope to Children's. Also joining us were Honored Hero, Mason Mazzuca, and his mom, Keli. She shared with us that Mason had returned for in-patient treatment at the Center and so they were grateful to have some time away from the unit.
---
Butterfly Garden - Patricia W
Laurel Elementary School is a certified Maryland Green School dedicated to teaching our students about environmental stewardship. Our students are actively engaged in our school recycling program and many of our students plant and maintain vegetable gardens around the school. As part of our Science curriculum, students study the life cycle of the butterfly. We have learned about the decline in the Monarch butterfly population and realized that with all of the construction and building around Laurel, one of the reasons for the Monarch decline is the loss of the milkweeds and other nectar plants that used to grow in the areas that are being developed. Our students wanted to help the butterflies by creating gardens with plants that would attract and sustain them here at our school. A local Boy Scout volunteered to build a raised-bed garden for our Butterfly Garden. By the time the garden was built, the few funds we had were depleted. We did not have enough money to purchase plants for the garden. We saw the Subaru Loves the Earth program and applied. We were very excited when we were chosen as a partner school. We had the infrastructure - all we needed were the supplies, which Subaru so generously provided.Our students planted all of the perennials we received and have been diligently watering and weeding the flower bed. We can't wait to install the bird boxes next.
---
Helping the Elderly Keep Their Pets - Lynn M
Herb Gordon Subaru is partnering with Thankful Paws to provide pet food and supplies that will help the elderly keep their pets happy, healthy and in their forever homes. Thankful Paws is an all-volunteer, not-for-profit organization founded in 2011 with the primary mission of helping to prevent the surrender of beloved family pets simply because they could not afford to provide them with the proper food. Thankful Paws helps over 350 animals each month and in the last 5 years, has delivered over 2 million meals! The elderly people Thankful Paws helps each month are so appreciative of the support and encouragement they get. They are now able to be more confident and secure in their ability to provide for their constant companion and best friend. Thankful Paws also helps those who are suffering from homelessness and domestic abuse situations with the much needed pet food and supplies. Thankful Paws appreciates your help and support. For more information, please visit their website at thankfulpaws.org
---
Subaru Loves the Earth - E-Waste Event - Danielle S
We would like to thank our customers for participating in our E Waste Recycling event during the month of April. With your help, we were able to prevent 3,762 lbs of carbon emissions from polluting the atmosphere. This is equivalent to saving 145 trees, 640 gallons of gasoline, 5,454 plastic bottles, and 25,084 aluminum cans. Thank you for helping strengthen the Subaru Love Promise!
---
Holy Cross Hospice Love Promise Story - Susan F
Hospice Service promotes life. Holy Cross Hospice offers those living with terminal illness a unique and holistic approach to their care with a team of medical professionals specializing in symptom management aimed at improving quality of life. Hospice is about defining what comfort means to you and about being surrounded by who you want, where you want. It is about experiencing the love of family and friends in your own way and even about getting to eat that cake or ice cream. Hospice is about life and living it the way you want for as long as you can. No endeavor compares to the difficulty of caring for a loved one with terminal illness and we witnesses the promise of love every day during our care. It is lived out in the teenage children who sing their mom her favorite song at her bedside even though she can no longer sing with them. The love promise is in the daughter who takes her mom, oxygen and all, to Atlantic City for one more go at the slot machines. And it is in the adult daughter who moves back to her childhood bedroom to assure mom is eating breakfast and taking her medications. Our promise of love and support doesn't end when our patients die. We provide Grief and Bereavement Support for those walking the often tumultuous path of grief. Holy Cross Hospice is thankful for the privilege to serve our community. We thank Herb Gordon Subaru for their support in our endeavor to journey with those during a very intimate and meaningful time of life.
---
April 1-30, 2015 E-Waste Recycling Event - Molly M
Throughout the month of April, we are hosting an E-Waste Recycling Event in our store to collect unwanted electronics. We've arranged to work with a company who will responsibly collect, re-purpose, and recycle your electronic waste. Help us protect our environment. Just show up with your E-Waste and we'll do the rest! The first 50 customers who contribute will receive a complimentary environmental badge of ownership. We will accept: LCD Monitors, Cell Phones, Laptops, Tablets, CRTs up to 40, Video Games/Consoles, Fax Machines, DVD/VCR Players, Printers, Computer Peripherals, Switches/Routers, Cords and Wires.
---